Is your property management business keeping you up at night?
As a property management executive, you are probably busy running your business and not able to grow your business. The everyday reasons why you may have started your management company are now buried under administrative tasks and keeping it afloat instead of moving it forward.
It doesn't have to be this way.
SVNIC recently surveyed and interviewed over 100 property management executives to learn more about what's affecting their businesses the most.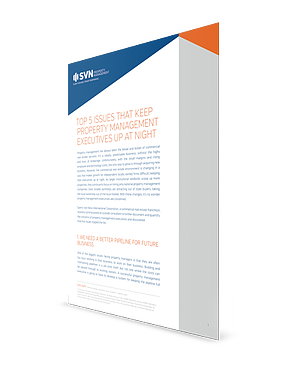 We have analyzed the results and put together a list of the top five business issues that keep property management executives up at night.
Download our free white paper to learn more about:
The biggest challenges that property management executives face.
Best practices for dealing with these issues in an efficient manner.
The resources that are available to your business to overcome these challenges.