How franchising allows you to take charge

The contributions of women and minorities to commercial real estate are rapidly changing the face of the industry. The once underrepresented groups have been able to help offices across the country develop broader perspectives and better overall business practices.
Now more than ever, the time is right for these groups to get involved in the market. Funding from the Small Business Association (SBA) and other organizations is making it easier than ever for women and minorities to make their mark on the commercial real estate industry.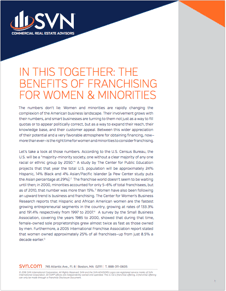 To learn more about the opportunities available to women and minorities, please complete the form provided to download our white paper: "In This Together: The Benefits of Franchising For Women & Minorities."
This white paper will provide you with an outline of:


SVNIC is a proud sponsor of REAP and CREW Network